hearing: watercorps+drops- think




Waxidermy is awesome and I will say it again. I was perusing the site looking for cool album covers and such and came across this one album that is great in it's own right, not for the musical stylings but for the sheer absurdness of it. This is going to be all about religion because it's a damn funny and interesting thing, that thing they call religion. Big ups to Waxidermy for posting this. The album is called The Living Word as Quoted by Susie. Listen to this track, it's somethin' else.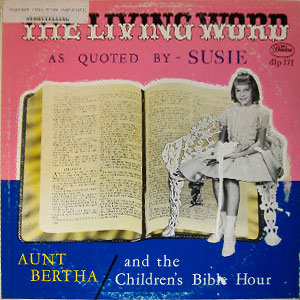 ***
This is the greatest church website on the internet and you can tell by their slogan, "Where the worthwhile worship. Unsaved Unwelcome!". Yeah,
Landover Baptist
pretty much rules and if they were a news source then they would be
The Onion
. Check them out because if you don't then god will smite you, ya sinner! You can't sleep on this site though because they've got a real good offer going:
Kids! Accept Jesus Christ as Your Lord and Savior and Get a Free PlayStation 3!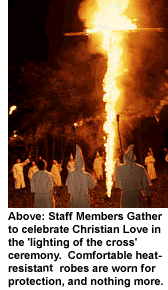 This was taken from their Staff area page



***


Just stumbled upon this gem of a mix blog lastnight called illjazz. This blog offers up a healthy dose of podcasts in the form of funk mixes to break mixes to electro shiz. Don't sleep! The format of the blog is so nice too, it's got everything laid out in simple form so you can click the icon of the type of media player you want to hear the mixes by. Definitely ill. There's probably something for everyone in this one... Bump their latest mix by clicking here!
tracklisting:

1. Queen vs. The Miami Project – Another One Bites the Dust (A Skillz Mix)
2. Laid Back – White Horse
3. FDEL – Get up on ya Feet
4. DJ Kool - Let me Clear my Throat (45 King Bass and Funk mix)
5. The Rapture W.A.Y.U.H (people don't dance no more)
6. Cassius – Toop Toop
7. Rick James – Below the Funk (Pass the J)
8. Rolling Stones – Sympathy for the Devil
9. Tutto Matto - Funkulu
10. Neighbourhood Romeo – Four Girls, Bi Girls
11. Prince – Lady Cab Driver
12. George Kranz – Din Daa Daa
13. Troubleman – Strike Hard
14. Hardsoul feat. New Cool Collective – Sweatshop
15. Danny Marquez & Ferry B – Afrocatalans
16. James Brown – Sex Machine (Readymade Jazz Defector Mix)
17. The Juju Orchestra feat. Terry Callier – What is Hip (Mo' Horizons)
18. A Skillz vs. Beatvandals – Beat Don't Stop
19. Doug E. Fresh – The Original Human Beat Box
20. Bent – Always (Nightmares on Wax Mix)
21. De la Soul – Me, Myself, and I
22. Hole in the Wall Gang – Brown Soul
23. The Marvels – Rocksteady
24. Bombs - Under mi Sensi
25. Farid - Sunday Paper

***


freight of the day